The Plantar Foot
The soles of our feet are the main point of contact with the earth for each and every step. That's some major mechanical stress. Our feet meet the challenge with specialized tissues that are tough, resilient, and surprisingly sensitive.
Come take a tour of the interconnected tissues of the plantar foot from surface to deep!
Just $79. Instant access.
Sign up today!
Here's what you'll find in the

Plantar Foot
Mini Course:
Join us as we explore the interconnected, tough and sensitive tissues of our plantar foot.
We'll map out how these tissues are adapted to all the stresses they encounter daily. As always, all our course content will be grounded in recent research.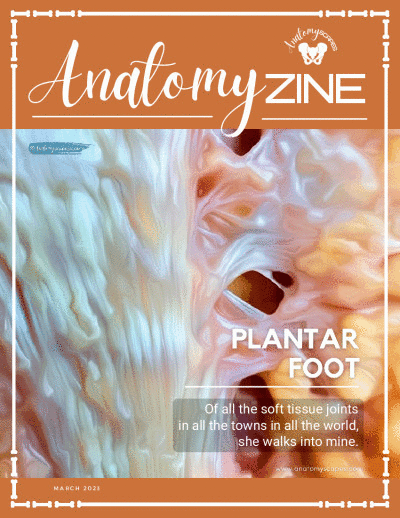 Your
Plantar Foot

Mini Course includes . . .
Anatomy🎨ART: Plantar Foot
A beautiful, downloadable, and sharable Anatomy🎨ART Card, stylized from a real image from the dissection lab with detailed explanation on the back.
Anatomy📖ZINE
This edition of Anatomy📖ZINE explores how specialized tissues of the plantar foot are adapted to handle all the daily stresses we throw its way.
Anatomy📝GAMES
With each foot boasting an impressive 26 bones and 33 joints, it's easy to get rusty on your foot anatomy. No worries! We've got you with some fun🦶anatomy review activities.
Anatomy🖍LOUNGE
Your ticket to Anatomy☕️LOUNGE is included in the mini-course. In this LIVE webinar, we'll explore images from the dissection lab, the latest research and the implications for hands-on therapists. Join us live online or watch the replay!
. . . and some other Cool😎 STUFF we've pulled together for you!